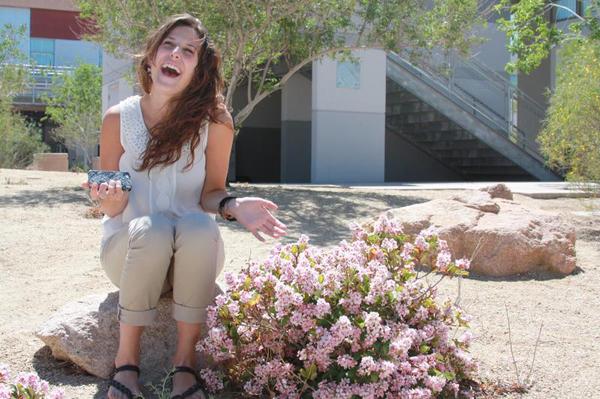 The month of March has just begun and after running through my cliche morning routine of showering, blow-drying my hair, and applying just a hint of make-up, I check my Weather app on my white iPhone to see Las Vegas' high for the day. My eyes light up at the fact that the high for this beautiful March day will be 77 marvelous, sunny degrees. I cannot believe that I will able to wear sandals without my toes turning purple the moment I walk out the door and that I can wear a tank top while letting my skin soak up the sun.
Spring is, and will always be, my absolute favorite of the four seasons. Sadly, spring lasts about a month in Las Vegas before the, almost, unbearable heat hovers over Vegas for six months. So, when I drive down Southern Highlands Parkway on the way to my house and I see the pink blossoms from the Japanese Cherry trees lining the sidewalks, I am instantly in the best mood. I immediately push the dark weather of winter to the back of my mind and relish in the warm sunshine radiating over the Las Vegas valley.
From swimming in the sun to reading a book in a cool breeze, spring always has so many activities to offer, for myself, as well as others. My birthday is in the month of May and my baby brother's birthday is at the end of March. The celebrations are always exciting. Spring break always arrives right after my brother's birthday and this is another event I always enjoy. Not to mention, springtime means the school year is much closer to coming to an end. Who doesn't love summer break?
I do not know if it is just my family, but we always open our windows in the afternoon, BBQ in the evening, and end the day as happy as can be throughout the months of spring. I will take my brother to the park in the perfect (in my opinion) 75 degree weather while I watch him from a distance, as I lay in the cool grass and bask in the newly warmed air. (I have always wondered if I have a small problem with seasonal depression, because during the winter time I'm far different than I am in the warm air of a spring morning.)
Call me strange, but springtime makes me happy unlike any other time of year. Springtime has so much in store for her occupants. Spring helps wrap up the school year for many while  preparing us for the blazing of summer break in the blazing heat of Las Vegas. I, simply, cannot wait to see the trees bloom and sandals roaming the sidewalks; that is what makes me happy.