Mon-Sat: 11 AM-9 PM
Sun: 11 AM-8 PM
5130 S Fort Apache Rd, Las Vegas, NV 89148
Credit Cards Accepted
Pushing the boundaries, I Heart Mac and Cheese explores the endless possibilities of macaroni and cheese and grilled cheese. Originally created in the south, this company has opened franchises in many central American states. This rapidly expanding brand has officially laid down western roots and opened its Las Vegas location in November of 2021. 
The evolving "I Heart Mac & Cheese" specializes in customizable and creative approaches to childhood dishes, like made-to-order macaroni and cheese bowls and grilled cheese sandwiches. Customers can choose from a variety of pasta and bread, including gluten-free options, different types of cheeses, vegetables and proteins, such as meatballs, bacon, ground beef, pulled pork, short ribs and crispy chicken. They also have vegan options, including vegan cheese sauce, vegan sliced cheeses and plant-based proteins. 
Although the location is fairly small, it included a Subway-like pasta preparing station and two-person tables lined across the opposite walls. They also have a few outdoor seating options, but with the location in consideration, sitting outside wasn't a worthwhile experience. The overall interior of the restaurant was bright and comforting with multiple black walls decorated with cheese-related pictures. It looked as if they only had two employees working, and it took them about 15 minutes to bring us our meal, but there were other parties also awaiting their orders.
My friend and I decided to start with two orders of Pepperoni and Buffalo Chicken Signature Mac Balls ($3.25 each). Each order came with three mac balls and a choice of dipping sauce. On both types, the outside shell was perfectly fried and not soggy, even with the sauces inside. When we first tried the Buffalo Chicken, the flavor was prevalent, but the texture was strange. It seemed as if the pasta was shredded to match the chicken, however, the buffalo and cheese sauces made up for it. On the other hand, the pepperoni mac balls were made up of sliced pepperoni and full pasta pieces, making them more delightful.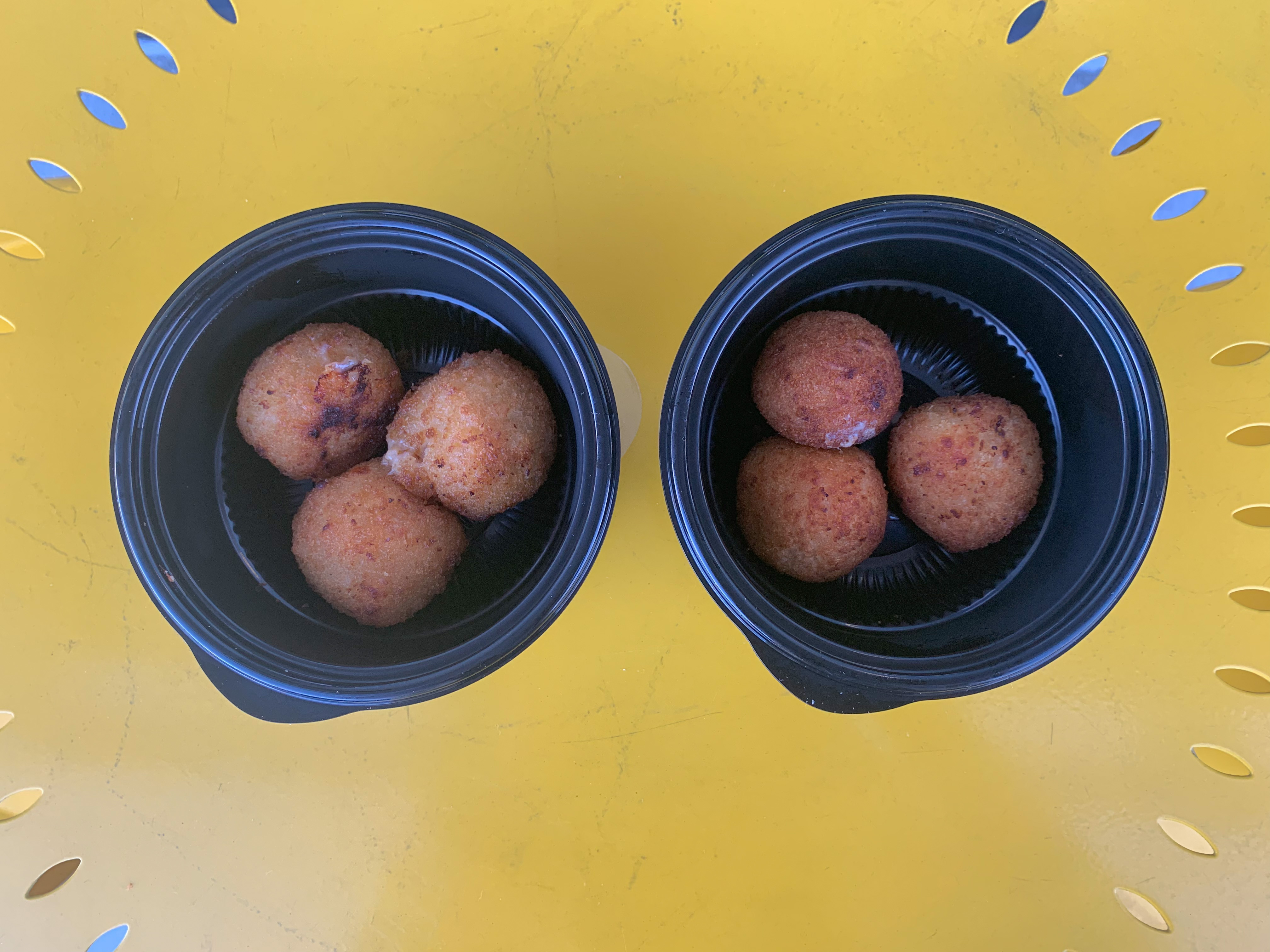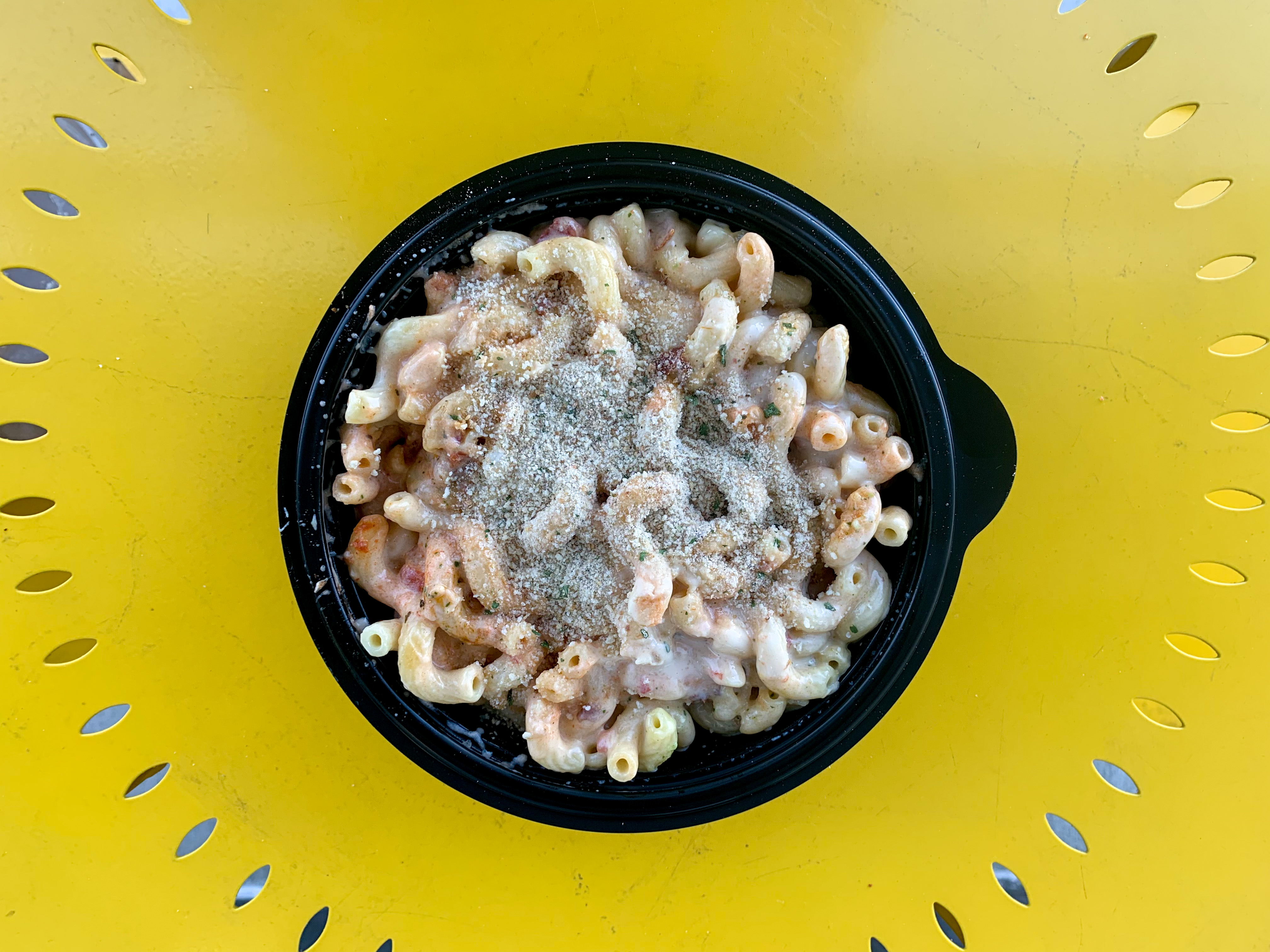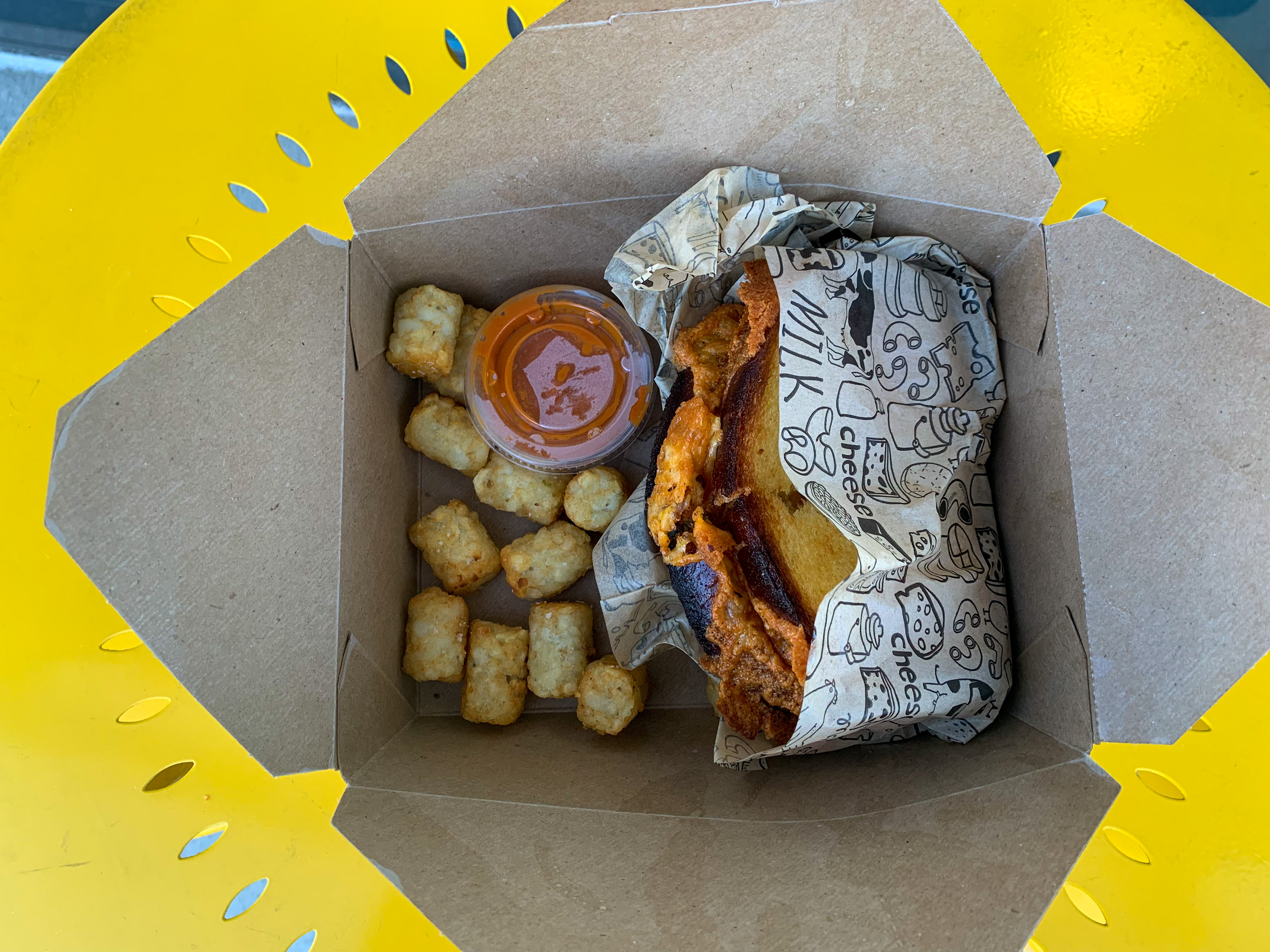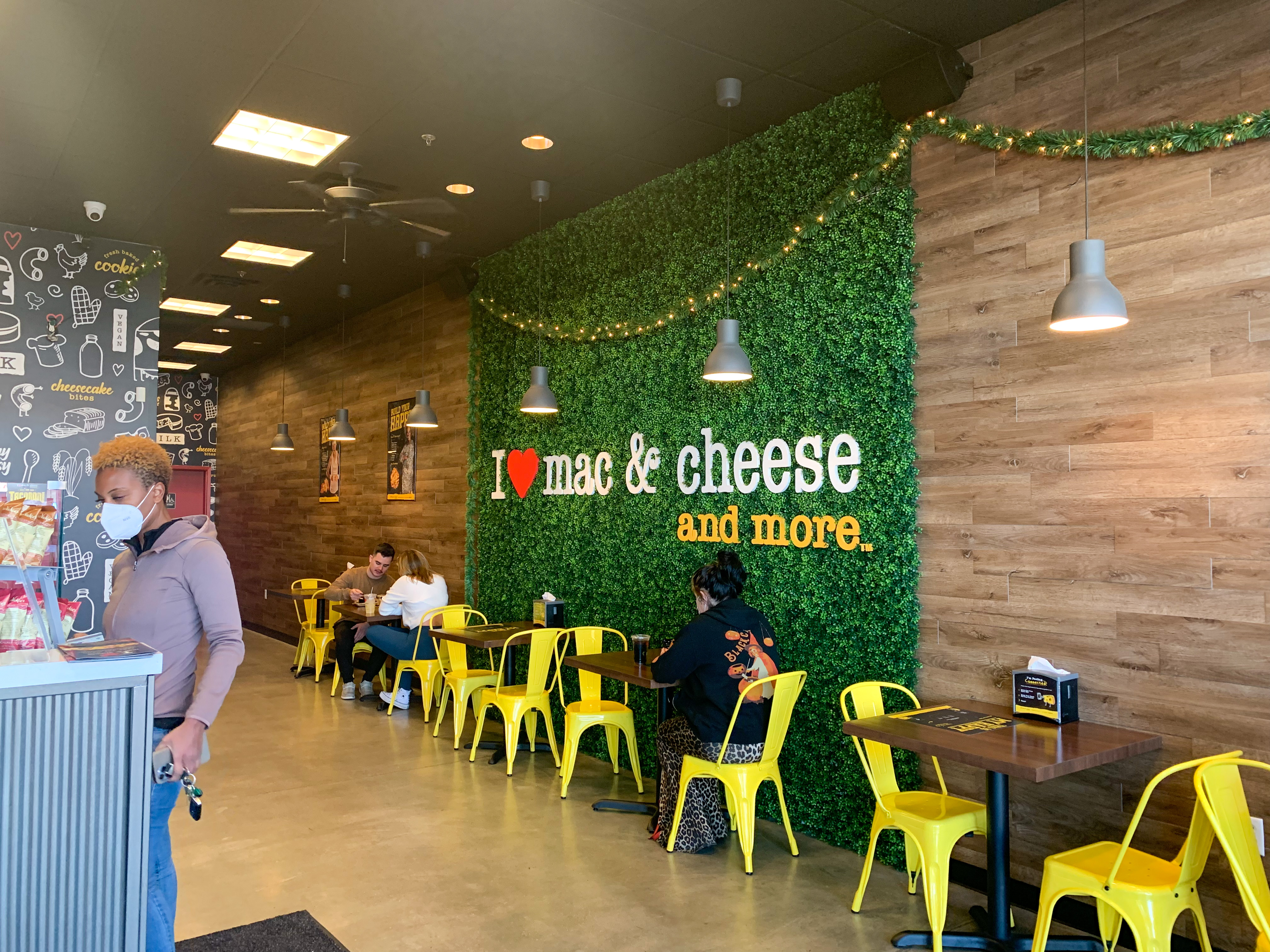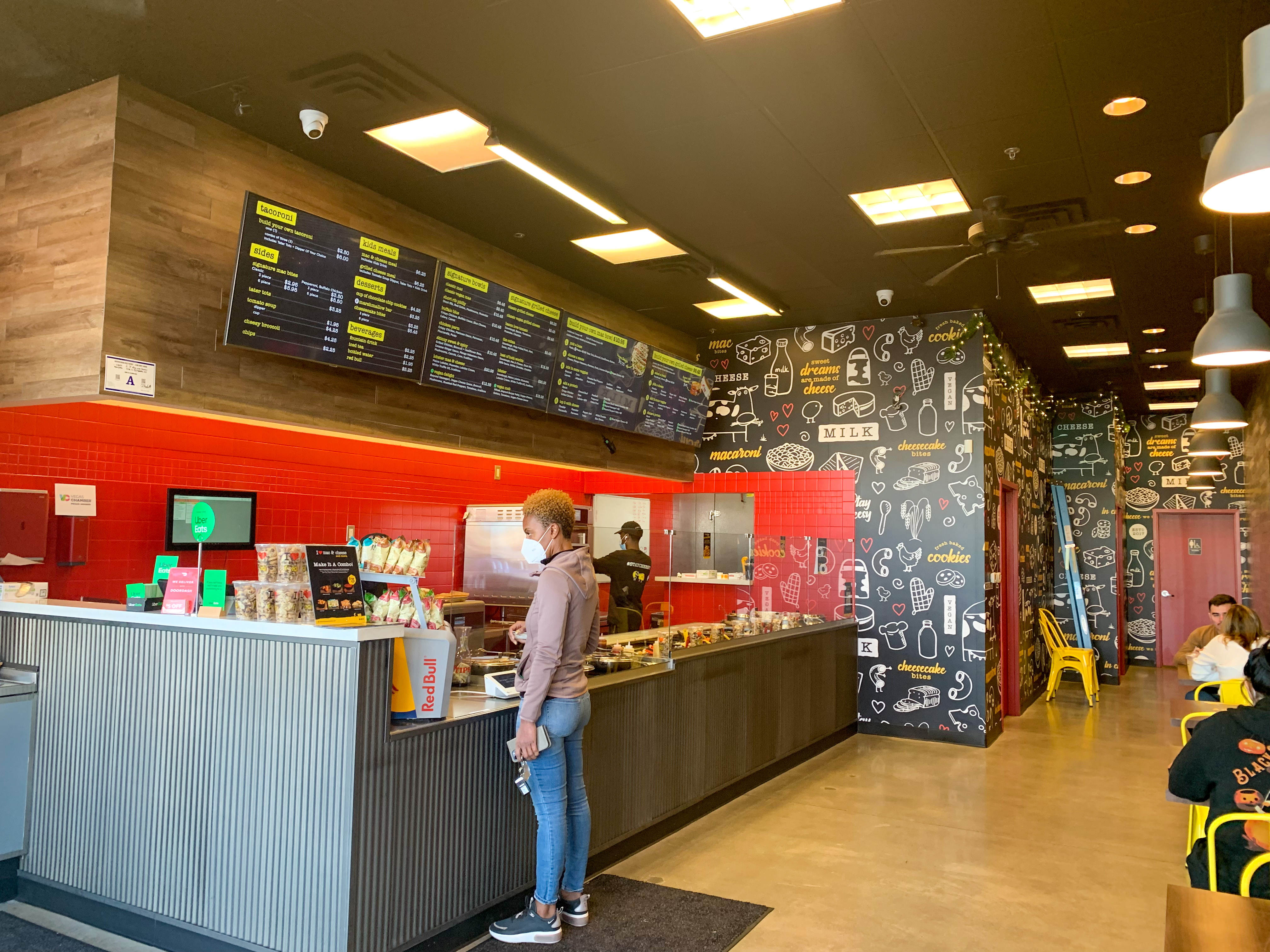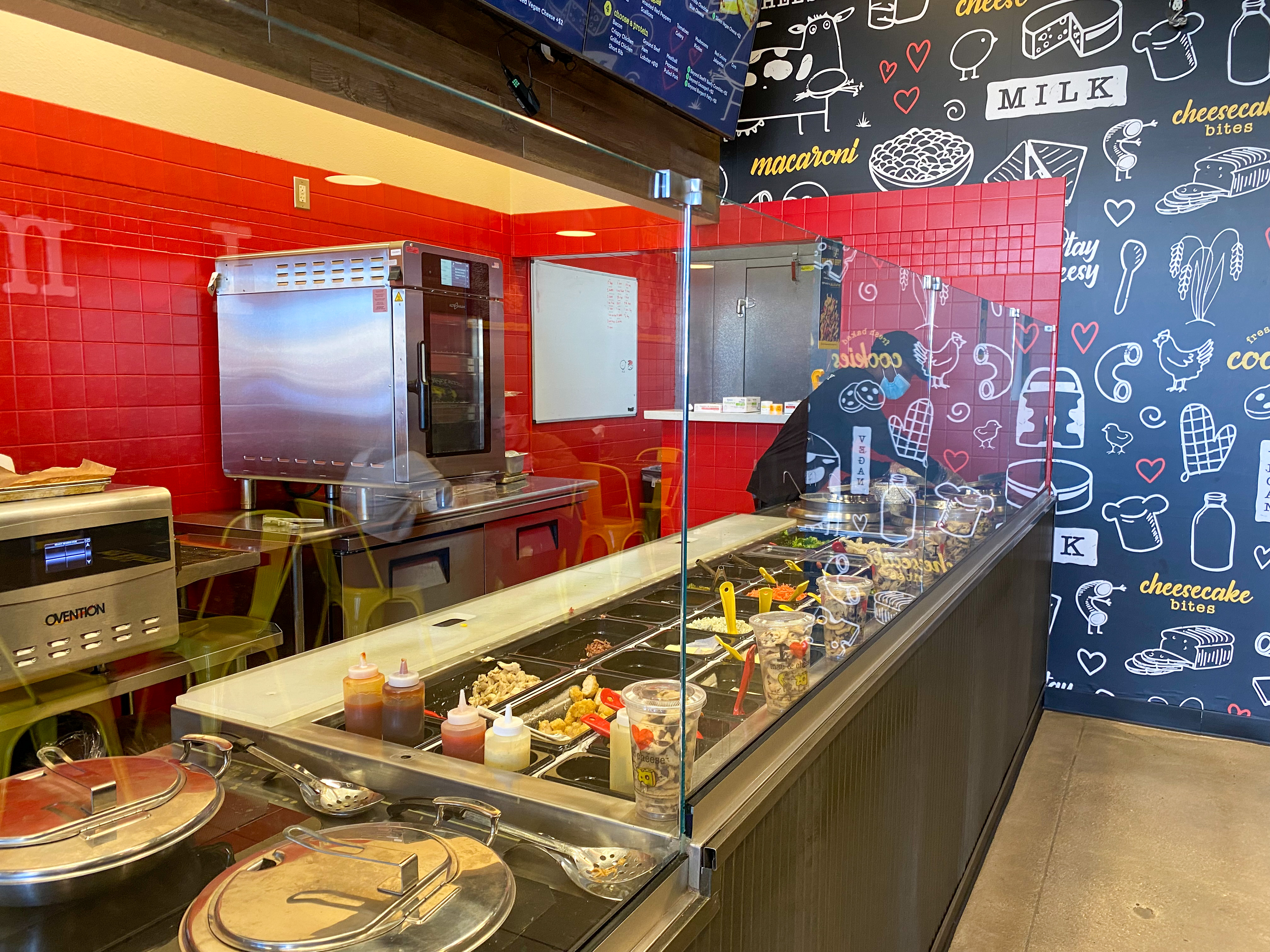 Already impressed with the small portion of mac and cheese that I tasted in the mac balls, I decided to order one of their signature bowls. The Chicken Parm bowl ($10.45) consisted of marinara sauce, pesto, mozzarella, parmesan and your choice of crispy or grilled chicken. After ordering, I was able to watch as an employee added all of the ingredients to its own mixing bowl and not to a pre-existing base. One of the first things I noticed about this dish was how it was fully mixed together, making it more like a cheesier baked ziti instead of mac and cheese with a layer of chicken on top. With cheese, marinara and pesto, I was nervous that this dish would be incredibly runny. And although it was rich, each bite wasn't overly heavy. The only issue I could find was that the crispy chicken was as large as chicken nuggets, making it hard to eat. With that one exception, I was pleased with this creative twist on classic macaroni and cheese and was even more pleased with how large the portion size was.
Finishing off our meal, we decided to try the other half of this restaurant's creations by ordering their Classic Grilled Cheese ($6.25). Each one of them comes with a tomato soup dipper and a side of tater tots. Although we did just order a simple grilled cheese, it was far from ordinary. The sourdough bread was fluffy and didn't make the sandwich all bread and since the grilled cheese was made in an oven, it was extremely crunchy. It was also cheesy enough for there to be a satisfying pull apart but without it melting out from each side. Apart from the sandwich, I was also pleased with the small portion of tomato soup that was included with the meal as it took our sandwich experience to the next level. The dipper was more like sauce and could have used more tomato to be truly considered a soup. I was also disappointed with the tater tots as they seemed to be the same frozen ones I make at home and came out at room temperature. Even with these few issues, we thoroughly enjoyed this simple sandwich and are looking forward to trying their more creative ones in the future. 
For the most part, I was beyond pleased with my dining experience and am already planning my next visit there. The only problem with our original visit was the wait, but the likely cause of that was the popularity of the growing restaurant. The creative spin on favorite childhood dishes truly set "I Heart Mac and Cheese" apart from the other restaurants in the area. I would recommend that everyone goes to experience this wonderful restaurant and for those who don't live in Vegas, I would hope they "mac" a franchise soon.