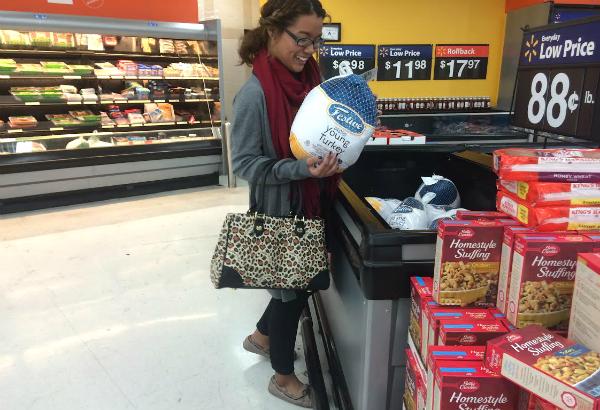 Here I am, graced with the time to give thanks and let my waist measurement increase to the next pants size. Turkey Day, even though I personally prefer chicken, is here and it's time to celebrate!
Generally, the other 364 days of the year I don't give enough appreciation to the luxuries I am blessed with on a daily basis. However, it is prodigious to dedicate a specific day to the generous holiday. What provides the bittersweet essence of the holiday is how some celebrate it, putting all the negative events experienced behind for a day.
I don't follow a picture-perfect life or attain the characteristics that define the interpretation of "perfection," as much as I sometimes wished. With that, there are still those moments where everything just kind of comes crashing down. There are days when the sun doesn't shine so bright as a Saturday afternoon, spent with a friend that harbors a soul that closely resembles yours and gorging on a shared dessert. The importance through all of this is, though, is the ability to find some sort of sanctity for the positive occurrences, thereby dedicating a day to it each year.
[vision_pullquote style="3″ align=""] "It feels comforting to know that I haven't converted totally into a pit of despair and seeing only darkness like some can reach." [/vision_pullquote]
I, like some, have not had the best of luck with many aspects in my daily life. Grades, finances, family, even figuring out what my permanent place to call "home" is. They have organized themselves to intertwine themselves with one another and have taken a major hit that, as an outcome, have sabotaged one another. In fact, it has even resulted in a face-to-face realization of all my problems brought to my attention by my counselor and concerned advisor. Despite all these issues that I still endure, there are numerous people and situations that have given me the motivation to believe in the idea of appreciation.
Having those people and ideas there to encourage a mindset of giving thanks this upcoming Thursday is not only something to appreciate, but some sort of positive light in my path. Although a small group of individuals come to mind when thinking of those that really bring meaning to the holiday, it is still assuring to know that I've kept my sanity in believing in gratitude. It feels comforting to know that I haven't converted totally into a pit of despair and seeing only darkness like some can reach.
When the day is all about togetherness and you feel like no one's there to mend it, of course sadness is what will linger in the mind. I mean, that is the purpose of celebrating it: bring families together and admiring all that they do for you.
If my problems were examined by outside sources (well actually, they already have been), they would be identified as issues one should not have to conquer alone. That is why I dedicate this column piece, with much gratitude, appreciation, and quite frankly some watery eyes, to those with enough patience to support me in any complication I run into.
Thank you so much to the following: Josh, Dad, Jasmine, Danialle, Tonatiuh, Geleen, Alex and even Mr. LaPorte. Thank you for giving me a reason to celebrate this year's Thanksgiving in happiness.