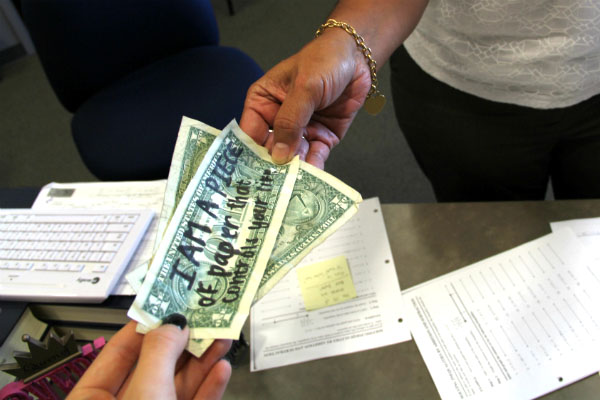 Money cannot buy happiness, but it sure does buy the items that bring a smile to our faces. Admittedly enough, that is a bit of a materialistic statement and generalization to make; however, with how dependent society has become on currency, this statement applies to the world we live in today.
This notion has crossed my mind on a few occasions. My interest towards this subject was reignited with an exercise to prepare for the writing proficiency. The prompt that was given for this writing session asked for our standpoint on this statement: "People today are too concerned about making money."
As I wrote about the dependency on money, I considered its impact.
Remember the times as children (around the beginning of elementary school) when we were given money that made us feel like the richest people? The same amount of money is now considered a frivolous amount. The change in dad's wallet was not the most important desire in our lives and definitely did not surpass the joy of coloring books or taking trips to the park. Money did not increase our level of emotion back then because it was not important to how we carried on with life.
[vision_pullquote style="3″ align=""] "The problem with it now is the overzealous conception that makes people feel it is a required worth towards living." [/vision_pullquote]
Receiving a first paycheck is an overlooked experience. We spend the bulk of our weeks anticipating Friday, or in other words, payday: the day in which the hard work we've put in all week is handed back to us in the form of a crisp, $215 paycheck, just waiting to be spent on a pair of Steve Madden boots. But as the money disappears as fast as it came in the midst of one shopping trip, a sense of panic rushes through us at the thought of having to ration off whatever loose change remains in order to make it until the next payment. This dependence on earnings provides an example of the controlling power money can have on one's life.
To achieve a level of financial stability, some take on great extents. Any occupation that is thrown at them is taken, regardless of the requirements or duties done for it, as long as they are paid top dollar. Examine the reality shows on TV nowadays: race around the country, risking your life and leave your loved ones at home as you attempt to win a grand prize of $1 million.
Think of the aftermath of those who are lucky enough to win the various lottery drawings around the world. 22-year old Callie Rogers from England is an example of someone who let money become in control. At only 16 years old, luck was graced upon her and she had won three million dollars in the lottery. Of course, filled with excitement, she splurged on unneeded plastic surgeries to fix flaws that were hardly noticeable and multiple houses. She is now left with nothing of her winnings, living with her mother and she has attempted suicide twice.
Before currency was ever established, it was only a piece of paper that held no worth. The problem with it now is the overzealous conception that makes people feel it is a required worth towards living and allows it to control them.