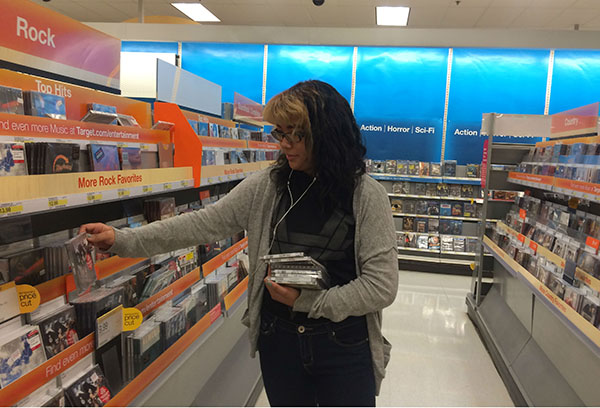 When you catch me at any given moment lately, you're bound to see me either ready to plug my earbuds into my phone and jam out, or I'm already jamming out while belting out the wrong notes. Either way, I'm still caught with my earbuds.
Music lately has become a part of my daily routine and life.I've always had a fond love for music since I can remember dancing in front of the TV to Britney Spears when I was about three. In fact, I'd rather listen to the sounds of my favorite band, Sleeping with Sirens, melodic perfection rather than watch the episode of Brian's death on Family Guy or catch up on the new season of American Horror Story: Coven.
It's official; music is taking over my life in the most positive way possible.
When my friends ask me about the newest show they've watched and I respond with saying I only listen to music, I receive a dazed look of confusion just about every time. The friends that ask me most are the ones who join me in my hobby of concert going, so it leaves me speechless for them not to understand my love and appreciation for music. Because of their reactions, I feel like my music is unappreciated.
[vision_pullquote style="3″ align=""] "It's official; music is taking over my life in the most positive way possible." [/vision_pullquote]
To some, music is kept as some sort of background noise that's brushed off. Instead of listening to a whole album from start to finish, the way the artist intended, listeners only focus on the singles or their favorite songs. Not only is music itself not being appreciated, but also the order of the songs. Bands and artists place their songs in a specific order for a reason, whether it be to tell a story or to build up tension, but unfortunately, not many listeners seem to take the time to appreciate it.
Listening to music has kept me filled with chill vibes. Rather than being negative, I now see my tough situations from a different perspective and see the positive path. Instead of looking for an easy way out, I challenge myself to take the high road in solving situations. The constant presence of music is the reason for my high levels of positivity nowadays.
Any activity that involves music is fulfilling for my daily lifestyle. In fact, looking at my the apps on my phone, you'll find five music apps including Pandora and Spotify in hopes of discovering new genres and types. Without music, I'm pretty sure I wouldn't look forward to waking up every morning.