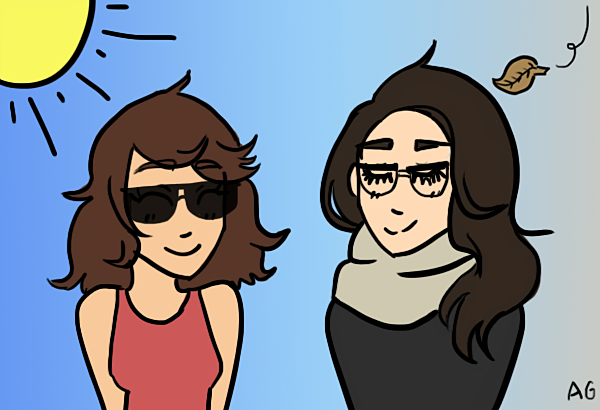 Each week, siblings Andrea and Amanda Galvan are presented with a topic and 30 minutes to debate that topic. The catch? They are not allowed to speak. Instead, they document this dialogue on a Google Document in separate spaces, but they can utilize whatever resources that the Internet can provide them to support their viewpoint.
Amanda: As the weather starts to change, I'm more energized than ever. There's something about waking up and almost freezing that gets my day started in the best way ever. Cold weather and happy.
Andrea: Cold weather is really undesirable, especially in this city full of extreme weather conditions. Summer is definitely the superior season, because there's a lot more to do.  First off, you're not in school! Second? YOU'RE NOT IN SCHOOL! Other than that, you have access to pools and water.  I don't know about you, but I love water. Summer is just way better because, well . . . it's not cold.
Amanda: You know, fall is known for being the season and time of year in school where there's a lot of holidays, winter break included. Although it's second quarter (the dreaded time of the school year which everyone loves), the weather makes up for all the hard work. After spending four months sweating from constant heat, fall is a relief.
Andrea: Dear sister, winter break is called winter break because it's in the winter. Would you rather be at school five days out of your week, stressed out of your mind, or at home playing video games until the sun rises? Being stressed sucks, especially when you're taking 5 AP classes in your senior year. (Please don't do that.) Anything is better than being stressed; summer is the perfect time to relax.
Amanda: Not everyone spends their summer neglecting summer homework and playing Grand Theft Auto all day. That's just you. With proper time management skills it shouldn't be that hard to finish your work. Besides, I'm not referring to the days off within fall. I'm talking about the cool weather that lets you step outside and go for a refreshing walk.
Andrea: I'm not saying you can't do work over the summer. It'd be neat if you managed to finish all of your summer homework in June, but that's unrealistic. That cool weather you mention turns into freezing death after about a week! At least in summer, you get four months of not-dodgy weather!  Why would you want to go for a walk when you can go for a swim? There are so many more things to enjoy when you're not dying of cold.
Amanda: Not everyone enjoys summer. Some people like to enjoy their free time in nice, cool weather doing fun things that aren't all water-centered. Either way, I find fall to be a more enjoyable time of year. Sure, it's only a few months away from winter, but that's even better.