Monday – Sunday: 6:00 a.m. – 12:00 a.m.
7095 Badura Ave, Las Vegas, NV 89113
Accepts cash, card, and Apple Pay
Ever since the first restaurant opened in Honolulu, Zippy's has held the unofficial title of "Hawaii's Favorite Diner," a title they proudly advertise. Fifty years later, they have opened up 22 locations throughout the eight Hawaiian Islands, and the 23rd in Las Vegas. Over time, Las Vegas has inherited small traces of Hawaiian culture, and it is fitting that the first franchise on the mainland, casually referred to as the "ninth island" is located here.
"Busy" can't even begin to describe how crowded the restaurant was. I was aware of the massive anticipation surrounding their opening, but it did not prepare me for the masses of people lined up to be seated. Despite the abundance of people, the waiters and waitresses did their best to serve us in a timely and polite manner.
Upon walking into the establishment, someone immediately greeted me with several representations of Hawaiian culture. Despite not visiting Hawaii for many years, I've grown up with the culture from my mother and her family who lived there for a large portion of her life. The most prominent examples of the emphasis on Hawaiian culture were the waitresses wearing traditional pua flowers and the walls decorated with Hawaiian slang, known as "Pidgin" to the locals. Phrases like "Dis way" or "Dat way" are prominent in Pidgin dialect and posted on signs to direct customers. On opening day, they also held a hula performance to celebrate.
The inside of the restaurant was a lot smaller than I was expecting. I learned that a large portion of the building is being utilized as a warehouse for when they open up new locations, and it will act as the headquarters for the Las Vegas franchises. The design of the restaurant decor is distinctly reminiscent of a retro diner with modern twists and cultural depictions. Based on pictures from my vacation years ago, the interior is vastly different from locations in Hawaii, which isn't what I was expecting. Still, the setting of the restaurant was pleasant and reminiscent of Hawaii.
Their menu consists of meals fit for all times of the day. They have a large variety of menu items, however they don't have the full menu as offered in Hawaii. Due to the original menu containing over 150 items, their most popular dishes are being introduced now and the rest will follow in the upcoming months. I was really looking forward to having their saimin soup, as it was the only thing I remember eating when I visited before, but I was very disappointed when I learned they're not serving it yet. It'll definitely be on my list of food to try when it comes out.
First of all, a majority of their entrée dishes are served with rice and mac salad. The rice is freshly cooked and to the perfect texture, not too soft, chewy, or hard. Coming from a person who's very picky about her rice, this was up to standard. The mac salad is notably better than other ones I've tried before. Most mac salad I've been served at other Hawaiian restaurants is bland and lacking flavor, almost tasting watered down. The exact opposite can be said here. The creaminess of the sauce, the freshness of the sliced cucumber and carrots, the texture of the macaroni noodles, and the overall flavor of it makes this one of the best mac salads I've ever had.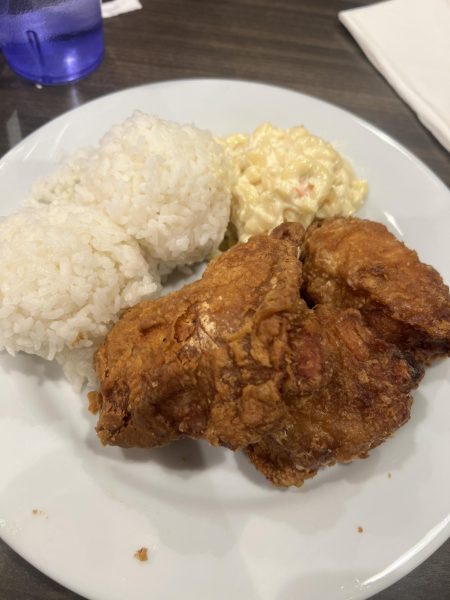 My main dish was their fried chicken ($16.75), and I was more than pleased with it. It included three pieces of golden brown fried chicken, served with two balls of rice and a scoop of mac salad. The chicken skin is one of the crispiest I've ever bitten into and packed with flavor, unlike others that taste solely like breading. The meat inside was tender and fell right off the bone. The rice to meat ratio wasn't to my liking. I was eating one ball of rice per piece of chicken, which left me wanting one more ball in order to finish off my dish. But, altogether I was extremely satisfied with this meal.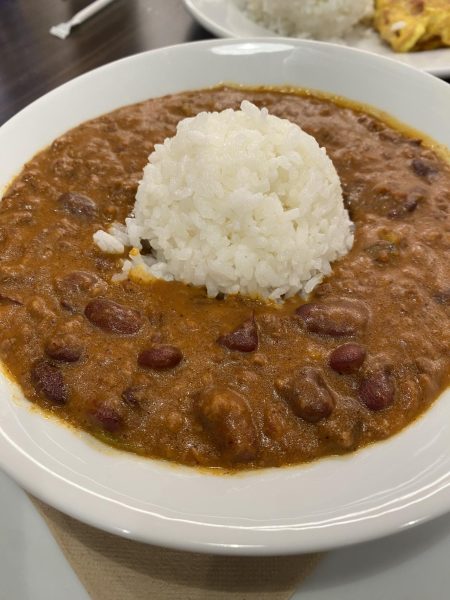 One of the most famous items on their menu is their chili ($9.55), which is served with a large ball of rice. The bowl is fairly large and is more than enough for one person. I'm usually not a person who enjoys chili, but I certainly liked theirs. The chili was smooth, creamy, and flavor packed. The beans were cooked to perfection, having a flawless texture. The chili on its own was delicious, but was only enhanced when eaten with the rice.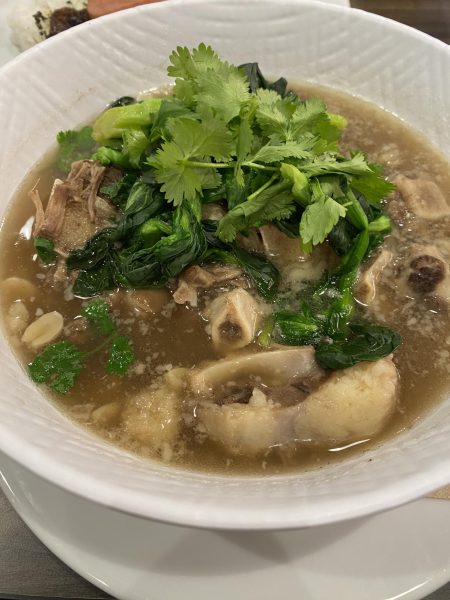 To my disappointment, their oxtail soup ($25.95) left me a bit on the fence. The meat was extremely tender and fell off the bone. It had a pleasurable flavor and I thoroughly enjoyed it. The fresh vegetables included were a nice touch to give it a fresh flavor. However, the broth had an overpowering ginger taste that I wasn't too fond of. I wouldn't order this again.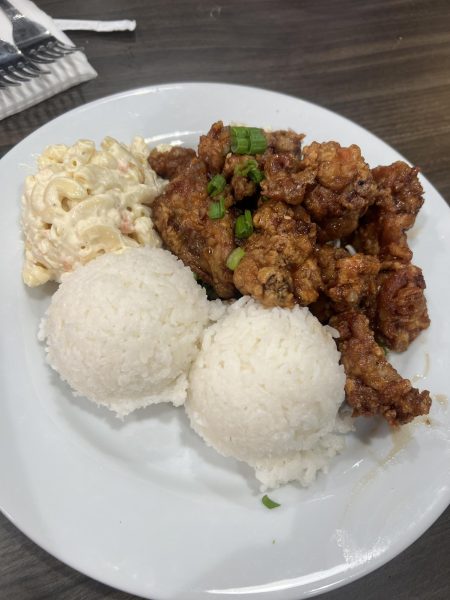 Finally, the Korean fried chicken ($16.75), was one of my favorites that I ate. It was served with the typical two rice balls and scoop of mac salad and was garnished with green onions and sesame seeds. The chicken pieces had a crispy breading on the outside and tender meat on the inside, which provided a variety of textures that just worked together. The chicken was doused in a mild spicy shoyu sauce, and it had an excellent flavor.
My anticipation for Zippy's grand opening had been building since they first announced it a few years back. That excitement is greatly deserved. I would recommend this restaurant to anyone who loves Hawaiian food and culture, or to anyone who's just looking for some great food in general. I'm looking forward to their planned expansion of their menu and franchise over the next year and will continue to come back for more.