May 19, 2014 at 12:16 pm
Fashion Design I have started off their last project of the year recycling old t-shirts.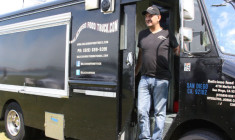 April 11, 2014 at 4:34 pm
With thousands of convention participants coming to the San Diego Bayfront Hotel, businesses must plan ahead and make sure accommodations are made for their guests.
May 19, 2014 at 7:51 pm
This week, siblings Amanda and Andrea Galvan debate anime vs. tv series.
May 26, 2014 at 8:19 pm
Due to my experience with countless seniors forgetting their duties upon the end of the year, I solemnly swear to never give up.
Fare-thee-well

Writing my last column is hard to believe, but I cannot really complain.

May 16, 2014 at 7:31 am
May 26, 2014 at 8:13 pm
Nintendo published the thirteenth installment to a classic platform-based game with Kirby: Triple Deluxe on its most recent gaming system, the 3DS, and has taken advantage of the gyroscope feature to make the game more entertaining than ever.
March 6, 2014 at 7:56 pm
The crew of The Outlook investigate Advanced Academics, table tennis and more.
The Outlook Episode 20

This episode of The Outlook focuses on the feature stories created by Video Project II/III/IV students.

February 2, 2014 at 5:58 pm

The Outlook Episode 19

This episode of The Outlook was filmed entirely at The Frightdome, located at Circus Circus Casino in Las Vegas.

October 18, 2013 at 9:54 pm