April 24, 2014 at 3:40 pm
Tyler McFadden of Qualifyor is promoting the "Rebrand For A Grand" contest.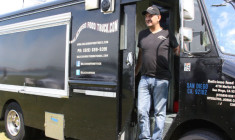 April 11, 2014 at 4:34 pm
With thousands of convention participants coming to the San Diego Bayfront Hotel, businesses must plan ahead and make sure accommodations are made for their guests.
April 24, 2014 at 3:31 pm
This week, Andrea looks back fondly on Spring Break.
Editorial: SAT makes positive changes

The Southwest Shadow Editorial Board would like to commend the College Board for recognizing the current test's deficiencies and much needed modifications.

April 8, 2014 at 7:52 am

Editorial Cartoon

This week, Jared reflects on feeling overloaded.

April 7, 2014 at 5:04 pm

Editorial Cartoon

This week, Andrea shares her personal connection to the "Girls in Tech" Web Design Spring PBL.

April 7, 2014 at 5:02 pm
April 23, 2014 at 2:01 pm
Lately, I have received negative comments to an event I look forward to yearly. Many of the commenters, however, do not see the fun that happens during Extreme Thing.
Sweet (sixteen) seventeen

I am excited to turn seventeen, as I've always believed this to be the golden age.

April 8, 2014 at 10:52 pm

New York, I love you.

My visit to New York City was enough to make me ask for more.

March 27, 2014 at 9:44 pm
April 24, 2014 at 3:54 pm
The Vamps are your typical british boy band, that are sure to sweep the nation with their lopsided smiles and predictable music in no time.
"Foxes" glorious, nothing less

Those of us who danced along to 'Clarity" all summer will be more than liberated by the long awaited release of Glorious from Foxes.

April 9, 2014 at 12:17 pm
March 6, 2014 at 7:56 pm
The crew of The Outlook investigate Advanced Academics, table tennis and more.
The Outlook Episode 20

This episode of The Outlook focuses on the feature stories created by Video Project II/III/IV students.

February 2, 2014 at 5:58 pm

The Outlook Episode 19

This episode of The Outlook was filmed entirely at The Frightdome, located at Circus Circus Casino in Las Vegas.

October 18, 2013 at 9:54 pm